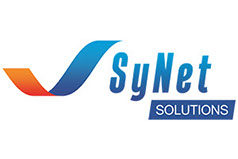 SyNet SOLUTIONS, Inc.
Call 855.313.9316 now for a free consultation and quote.
If a network is not cabled properly it is flawed at the most basic level. SyNet Solutions designs, installs and certifies data and voice cabling. If the cabling looks organized and clean, the setup of the servers and the organization of the data is probably in a similar state.
SyNet Solutions has a team of professional cablers that take a great deal of pride in their work. By using SyNet Solutions, your cabling job will be done efficiently, neatly and correctly. SyNet Solutions does not skimp in the details, using only the finest cables and materials sourced from the top manufacturers.
We offer the following cabling services:
Data Cabling.
Fiber Optic Cabling.
Audio and Video Cabling.
Security and CCTV Cabling.
Detailed documentation and certification of every cabling grade, from CAT 3 to CAT 6.
Details such as drawing, jack labeling, cable certification and wiring closet documentation.
Call 855.313.9316 now for a free consultation and quote.
If your small business needs to connect a handful of computers to share printers and internet access, or your multi-national corporation needs a network of hundreds of computers and dozens of sites, SyNet Solutions has the answer you need.
Having extensive experience in data center design and execution, we can set you up and manage your network, server room or data center.
We offer the following networking services:
Internet connectivity
Wired and Wireless Networks
Data Center design and installation
File and Email server configuration
Virtual Private Networks
Data Backup
Disaster Recovery
VLansStorage Area Networks (SANs)Topology Design
File/Mail Server Installation & Configuration
Wide Area NetworksSwitch, Router and Firewall configuration
Call 855.313.9316 now for a free consultation and quote.
From setting up internet firewalls and installing anti-virus and spam blocking software to providing access control and video surveillance SyNet SOLUTIONS can your premises and your data secure.
Firewall installation and configuration
Web content filtering Intrusion Detection
Key Card entry systems
Video Surveillance
Spam Blocking
Virus Protection
Call 855.313.9316 now for a free consultation and quote.
SyNet SOLUTIONS can work with an existing IT department or act as an outsourced IT department. SyNet SOLUTIONS can monitor and manage your IT infrastructure remotely and if necessary dispatch technicians to your site.
Today's business networks need much more attention than in the past. Your company needs to administer, support, secure, troubleshoot, and keep your technology current. This must be seamless and automatic in order for it to be successful. Your technology has to perform so you can maximize your employee's productivity. Downtime can cost a company thousands of dollars every hour. Every business has to control IT costs and stay off the roller coaster of IT spending. SyNet SOLUTIONS Support is a simple service program that addresses these concerns with one program. The computer system should be viewed as a constantly evolving entity and future upgrades and expansion need to be taken into consideration. SyNet SOLUTIONS will help you implement a technology that is tailored to your organization so you can be prepared for the future and maximize the return on your investment in technology. The easiest problem to solve is the one that does not occur. By proactively monitoring your system and "locking down" the operating system SyNet SOLUTIONS can help you minimize support costs and down time. Managing an IT system requires organizational skills as much as it requires technical skills. A computer system must be setup in a logical, consistent manner and it must be documented.
System Monitoring
Software Patch Management
Remote Assistance
Phone Support
User Training
System Backup
Disaster Recovery
Software License Compliance Tracking
Hardware Warranty Tracking
Consider the following:
IT staffs are largely unmanaged and unmonitored.
Computer systems are undocumented and, as physical assets, often not tracked, at all.
Personnel working on IT systems and are often not "fault tolerant" and, if they leave the company, they can take much of the corporate knowledge with them.
By outsourcing your IT support to SyNet SOLUTIONS you will have a team of skilled professionals available to you 24 hours a day 7 days a week.
SyNet SOLUTIONS will completely manage your computers and infrastructure and will give your employees a full time help desk.
SyNet SOLUTIONS Support combines t best technology tools with proven customer support. Technology is at the core of your business operations and should allow your company to reach its fullest potential.
SyNet SOLUTIONS provides a single point of contact for all of your technology issues.
SyNet SOLUTIONS will monitor your system and prevent problems from occurring.
Call 855.313.9316 now for a free consultation and quote.
SyNet SOLUTIONS can deliver a comprehensive suite of Managed Hosting Services built on: predictable costs, reliable results, and the ability to extend your IT resources on demand. We provide you the support of a team of experienced, certified professionals with specific knowledge about your hosting solution.
Access to your desktop and data from any computer with Internet access.
Highly Scalable.Predictable expenses.
No need to maintain an internal IT department.
Fault tolerance and disaster recovery is build into the system.
Your IT infrastructure never becomes obsolete.
SyNet SOLUTIONS Hosted IT Services (Cloud Computing) is an ideal solution for a company that is looking for the functionality of a computer network without having to deal with the hassle or the overhead of maintaining it. SyNet SOLUTIONS will install virtual servers that can be securely accessed via the Internet at their secure center. The only requirement on the client side is a computer with internet access. SyNet SOLUTIONS will provide and manage the underlying technical architecture enabling convenient, on-demand network access to a shared pool of computing resources that can be rapidly reconfigured and provide . on-demand self-service, broad network access, resource pooling, rapid elasticity, and measured service. The client never has to deal with data backups, server upgrades, data security or the maintenance of the network infrastructure. The clients access virtual machines that will have all of the user's applications, files, email etc. loaded on them. These machines are highly fault tolerant and redundant and you will not have to worry about losing data.
About Us
SyNet SOLUTIONS is a Manhattan based IT Consulting and Implementation firm that provides the highest quality engineering delivered with the utmost in personal service.